How To Buy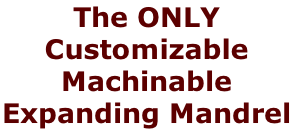 The Xpandrel was conceived by machinists out of necessity for machining precision thin walled parts without distorting the work piece. It was quickly realized that not only did the Xpandrel excel at that, it's versatility and adaptability was unparalleled in all areas of workholding.
The deformation profile of the Xpandrel provides ample workholding forces evenly distributed for the power you need while working even the toughest materials.
The ability to machine the Xpandrel delivers yet another powerhouse feature not found on any other expanding mandrel. This ability opens doors to customization that allows you to control and configure your process and thus maximize your machine and setup times.

With All These Applications....
Versatility Is Inherent By Design...
The Xpandrel advantage is that you can use it for so many workholding applications. And throughout your entire part process flow.
Just look at this list of applications!