How To Use
How To Finish Turn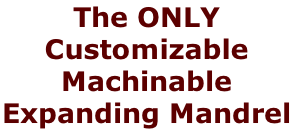 1 RFQ) Either use the RFQ Form Button, email or call us for an RFQ. We can help you make the best selections based on your needs.
2 PO) After you have received a quote you must generate a PO Made out to Mountain Machine Works (click link for pop- up company info). Please email to sales@mountainmachineworks.com
3 APPROVE) After we receive your PO you will receive an approval drawing (may take up to 1 week for non standard designs). Once the Approval Drawing is approved by you, you will receive a PO acknowledgement. The stated job lead time is started from the date of the PO Acknowledgement from us and expected ship date will be on the PO acknowledgement.
4 PAY) Payment is expected at time of shipment, via Credit Card or a previously mailed & Cleared Check or COD. Terms are available. Terms are subject to references and a credit check.
SHIPPING
Xpandrels are shipped via UPS Collect or FedEx Collect. Due to the vast size and weight ranges, pre-calculating and quoting on shipping is not possible. You must provide your preferred carrier account number. You may specify Ground, Second Day or Overnight as per your needs.
You may also choose PPA and we will add the shipping cost to your order.
NOTE:All Xpandrel shipments are insured for the sales price of order.
Expedited orders are sometimes available (for a fee) and some products may ship faster than others depending on the model and amount of processing time. 5000 Series always has a minimum lead time of 6 weeks.
Credit Application
RFQ Form


Credit Application
Most customers place their first order with a credit card, prepaid or COD.
A credit check may take several weeks. Submit this information early. If you plan on using terms.
RFQ Form
You may choose to fill this form out and submit it electronically. You will receive an email confirming receipt of your RFQ and a follow up phone call or email with any questions regarding your request.
Give Us a Call
You can always give us a call to discuss your project and answer any questions you may have.
With as incredibly diverse and customizable as the Xpandrel is, it's not feasible to keep a stock of every model that is standardly available.
The "standard lines" provide you with the economies of having the engineering, machine programming & ERP set up done. But, they are by no means the limits of the Xpandrel. We can customize an Xpandrell to meet your specific needs.